---
How We Work
We support entrepreneurs to run businesses that generate income and increase assets while also providing their communities with basic services and employment opportunities.
These businesses benefit the poor as customers, employees, and business owners.
---
Social Merchant Bank Approach®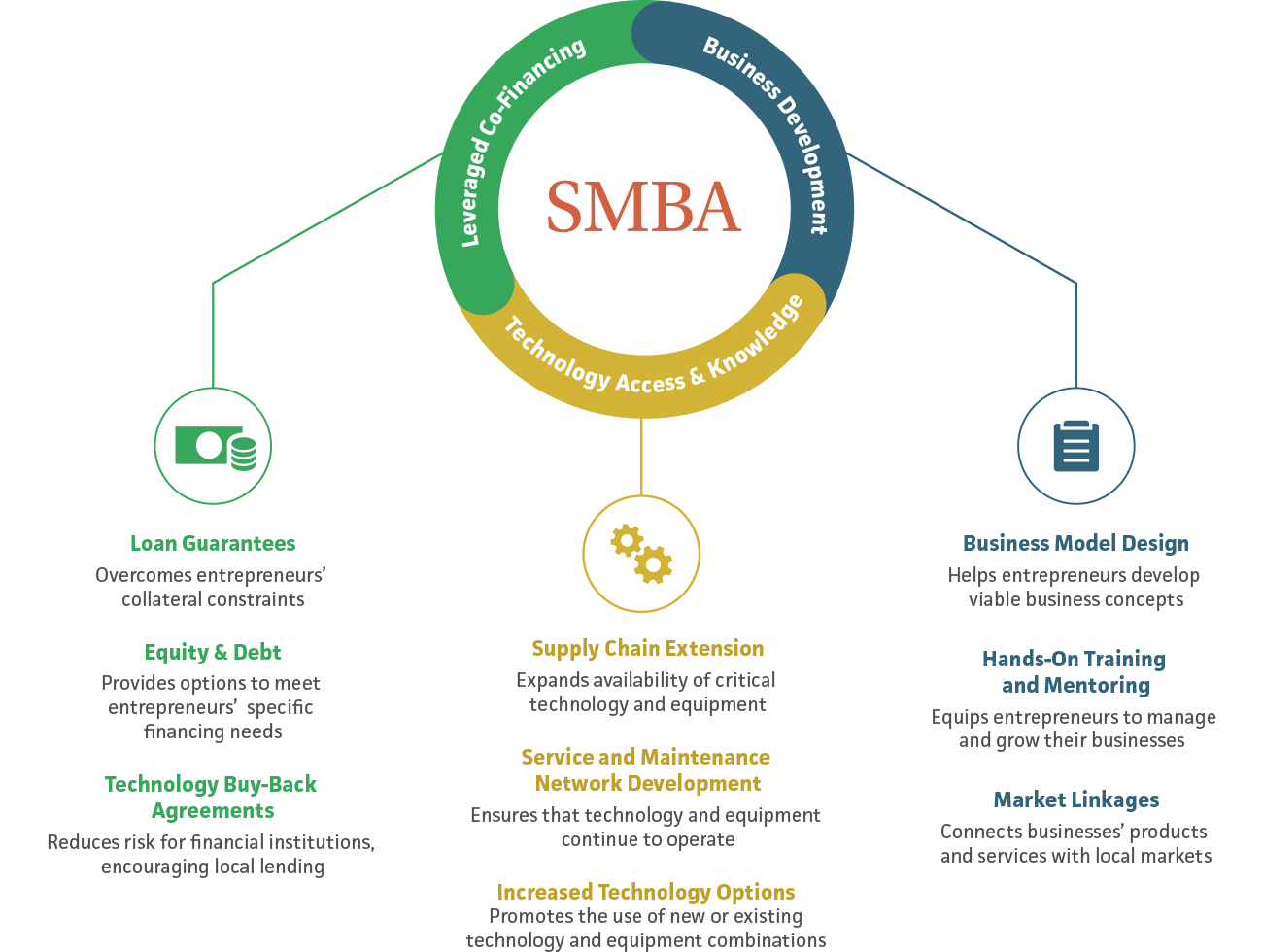 ---
Leveraged Co-Financing
---
Without savings or assets for collateral, local banks and other financial institutions are often unwilling to provide loans or other financing to entrepreneurs from poor and disadvantaged communities. S3IDF leverages development and philanthropic funds to mobilize co-financing from these institutions by covering transaction costs and by reducing financing risks. We provide or facilitate debt, equity, loan guarantees, and technology buy-back agreements. We ensure that entrepreneurs are offered fair interest rates and loan terms that align with their business cash flows.
---
Technology Access & Knowledge
---
Poor and disadvantaged communities face challenges accessing technologies that could improve their lives and livelihoods due to distance, cost, and other factors. S3IDF helps entrepreneurs integrate these technologies into their businesses and to extend access to their communities. This often involves working with technology suppliers to strengthen their supply chains, secure supplier financing, and improve their after-sale maintenance and repair networks so that they can better serve poor and disadvantaged communities.
---
Business Development
---
Many people from poor and disadvantaged communities start working at a young age and never finish school. While they develop many useful business skills, they tend to have few opportunities to develop more advanced revenue management, operational planning, and marketing skills. S3IDF provides entrepreneurs customized mentoring and hands-on training to give them the financial, operational, and strategic competence they need to succeed. We remain involved with entrepreneurs' businesses as they develop to provide additional support.
---
Project & Investment Criteria
---
S3IDF supports small-scale businesses with financing needs ranging from several hundred dollars to a couple thousand dollars to a few tens of thousands of dollars.*
Businesses must meet the following criteria:
---
Pro-Poor
Businesses must benefit the poor and disadvantaged as customers, employees, and/or business owners.
---
---
Financially Viable
Businesses must have financially viable business models that can operate profitably, covering operating and capital costs.
---
Highly Replicable
Businesses must have the potential to be adapted and replicated, requiring only limited modifications to adjust for location and local market conditions.
---
---
Environmentally Responsible
Businesses must use natural resources responsibly and respect the environment.
---
Entrepreneur-Driven
Entrepreneurs must be willing to invest in their own businesses through cash and/or labor contributions.
---
---
In Need of Market Integration
Businesses must face significant barriers to accessing financing, technology, and/or business development support and require assistance to overcome these barriers.
* local currency equivalent
---
Technology can change lives. However, for most of the world's poor just having access to technology will not be enough to alleviate poverty.
There must be attention given to how households, entrepreneurs, and community members can use technology to be more productive, generate income, and build assets. We provide these opportunities through technology and business model combinations.
Energy-Dependent Businesses

Solar Photovoltaic
Solar photovoltaic (PV) panels capture the sun's rays and turn them into usable energy that can be stored in batteries or used directly. S3IDF pairs solar PV with a variety of technologies, including:
Grain and spice grinders and processors
Reverse osmosis drinking water purification systems
Small refrigeration and fan-based cooling systems for agricultural products and medical vaccines
Mobile charging and telecommunication access
Small CFL and LED Lighting systems for silkworm rearing
Transportation-Aided Businesses

Trucks, Autorickshaws, Motorcycles
Small trucks, autorickshaws, and motorcycles enable businesses to deliver goods and services to customers and to pick up critical inputs and materials for their businesses. S3IDF-supported businesses use mechanized transportation to:
Service household water filters that remove fluoride contamination
Collect dry waste from commercial and residential buildings to sort, recycle, and sell
Deliver pay-per-use batteries to street vendors to power evening lighting
Pick up milk from villages to sell to a centralized milk processing facility
Water & Sanitation Businesses

Water & Sanitation
Access to clean drinking water and sanitation facilities help to reduce disease, which can enable people to be more productive, and reduce negative environmental impacts. S3IDF supports businesses that:
Distribute and service household fluoride-removing water filters
Collect dry waste from commercial and residential buildings to sort, recycle, and sell
Operate reverse osmosis drinking water purification systems for villages