---
Stories & Impact
We create positive change in communities, local economies, and in international development systems.
Manjula's Story
"I had an 11 lakh ($17,500) loan to pay for my husband's hospital fees. I paid it all back from the income from the batteries."
Indian cities are dotted with open-air markets where street vendors sell produce and consumer products. These markets are often open late so vendors have traditionally relied on kerosene lamps for lighting. Unfortunately, this fuel is expensive, emits poor quality light, and releases harmful fumes
Ramesh and Manjula, a married couple, wanted to provide a better, cleaner solution and purchased CFL bulbs and batteries. They started renting the lighting sets to the vendors. However, the batteries they purchased were poor quality and did not last more than a couple hours.
S3IDF started working with Ramesh and Manjula to create a plan for their battery rental business and helped them gain access to and finance high quality batteries. Ramesh worked other jobs during the day while Manjula would charge the batteries and make sure they were at optimum levels to power lights. After Ramesh returned home in the afternoon, they would deliver the newly charged batteries to the vendors and take away the previously rented batteries that needed to be recharged. The business started with a 60,000 rupee loan ($1,000) for 20 batteries but grew quickly and was soon renting out more than 50 batteries to street vendors, providing a healthier and more affordable lighting source.
Then Ramesh's health declined. Manjula took on an 11 lakh ($17,500) loan to pay for her husband's treatment while continuing the battery rental business with her brother-in-law. Even after Ramesh's death, Manjula continued the business and was able to pay off the loan for the hospital bills entirely from the income she earned through renting batteries.
S3IDF helped Manjula establish a business track record and demonstrate her creditworthiness. She then was able to secure financing on her own to purchase a vehicle to improve the daily battery delivery and collection process. She is currently planning to purchase more batteries to grow her business.
Read More
Krishna's Story
---
"My aim has always been to make something out of my life but I had not had an opportunity, until now."
Until mid-2012, Bangalore's City Corporation, Bruhat Bengaluru Mahanagara Palike (BBMP), managed trash and recycling services by transporting the city's unsegregated waste to landfills outside the city. Subsequent protests by residents living close to these landfills caused BBMP to rethink on how to dispose of all of its waste – 3,000-4,000 tons a day.
Hasirudala, a Bangalore-based organization that advocates for the rights of informal sector waste workers, helped to convince BBMP to transfer the management of their dry waste collection centres (DWCCs) to informal solid waste workers. Hasirudala and its partner, Waste Wise Trust, reached out to S3IDF to support this effort. S3IDF has been providing the workers with assistance in business planning and financing to fulfill their working capital needs and build their operations.
Krishna, who had been working as a waste picker since the age of 9, received training to operate a DWCC and gained the skills necessary to be successful. Each day he collects and receives dry waste, including paper, plastic and glass, which is then sorted and packaged in a ventilated concrete structure. The sorted dry waste is then sold to scrap dealers and other specialized recyclers. He divides the profit between his seven employees and is proud that he has been able to provide for his family and give his employees income and employment opportunities. Krishna dreams of opening a recycling factory with 50 employees.
Read More
Shivabasamma's Story
---
"My income has increased and now I don't worry about clothes and food. I am earning a living this way."
Shivabasamma lives in an informal urban settlement with her family in Vasant Nagar, Bangalore. They migrated to the city with the hope of a better life and stable employment. Shivabasamma started running a small shop in her community that sells snacks, tea/coffee, candles, soap, and other basic items.

S3IDF, in partnership with Selco Foundation, provided Shivabasamma with the business training and technology she needed to operate an integrated energy centre (IEC). IECs are renewable energy-powered businesses that provide a range of basic services and activities to local communities. Her shop is now equipped with solar panels that charge batteries to power lighting. Every evening people from the community rent charged batteries and the next morning they return them so that Shivabasamma can recharge them for the next night.
Residents are pleased with the lighting's low cost and high efficiency – each battery has enough power to light community residents' tents through the night, enabling children to study in the evenings and do better in school and making it possible for women to cook and clean without being bothered by rodents.
Shivabasamma's income and reputation in the community have risen as a result of her IEC. S3IDF and Selco Foundation are now working to transition Shivabasamma from an operator into an entrepreneur and are helping to arrange financing so that she can purchase the equipment, allowing her more opportunities to expand the services she offers and also enabling her to own the technology and equipment, increasing her assets.
Read More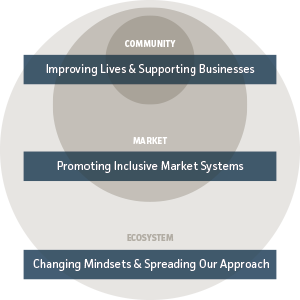 S3IDF's work positively impacts local communities, builds inclusive markets, and contributes to changes in thinking and processes within international development systems.
At the community level, we improve lives and livelihoods and help to protect the environment. At the market level, we change the business-as-usual practices of local players to be more inclusive, and on the ecosystem level, we work to build capacity and integrate market-based approaches into other development players' operations.
Improving Lives & Supporting Businesses

267,504

People Benefitted (based on an average of 4.8 people per family)

728

Jobs Created in Small-Scale Businesses

9,951

Owners of New Technology Assets

12

Indian States with S3IDF Projects

Promoting Inclusive Market Systems

1 : 2.61

$1 of S3IDF Funding Leverages $2.61 of Local Private Capital

29

Financial Institutions with More Inclusive Lending Practices

$656,615

Local Capital Mobilized for Business Development & Growth

28

Technology Suppliers Serving Disadvantaged Communities

Changing Mindsets & Spreading Our Approach

88

Presentations, Papers, and Trainings to Change Mindsets

9

Entities' Operations Directly Influenced by S3IDF

78

Partnerships with Local Market Players

69%

Projects Using Replicated Businesses Models